Elvis Presley loved to shower his only daughter, Lisa Marie Presley, with gifts. He lavished her with attention, and none of her wishes were too large for him to grant. However, he did gift her one "priceless gift" that remained a token of his devotion and a way for him to express his feelings for his daughter ahead of her fourth birthday.
Lisa Marie Presley lived a childhood of privilege
Lisa Marie lived a childhood where every whim was catered to. As Elvis and Priscilla Presley's only daughter, she had access to things most children dreamed of. Lisa Marie lived part-time at Graceland, where she had her ponies, a golf cart, and private access to a local amusement park, Libertyland, for herself and her friends.
Once, when Elvis found out that Lisa Marie wanted to see snow for the first time, he ordered his private jet to fly her to Idaho to play in the frozen landscape for twenty minutes before flying her home again. In 1975 he arranged for her to meet her favorite singer Elton John on her seventh birthday.
Lisa Marie was only 4 when the couple divorced, and the little girl had to split her time between two households—one in Memphis, TN, and the other in Los Angeles with her mother. However, Elvis's ex-Priscilla took on the role of a stricter parent, while Presley allowed his daughter to do what she pleased.
She once told The Talk, "[Elvis] was not strict. No one would tell me what to do because they would get fired. I was truthfully a terror, to be honest." Lisa Marie said it was "confusing" to go back and forth between homes where she needed to behave differently at each one.
Elvis Presley's 'priceless gift' to his 'most prized daughter' on her fourth birthday
I'm so excited to share 'Where No One Stands Alone,' an album I've co-produced celebrating my Father's love of gospel music. This was the music he was most passionate about. He was so at peace singing gospel songs. I'm especially blessed to have duetted w/him on one of the songs. pic.twitter.com/yNswTjCRXK
— Lisa Marie Presley (@LisaPresley) June 21, 2018
Elvis was friendly with writer Janelle McComb of Tupelo, Mississippi. He commissioned her to author a poem for Lisa Marie as her fourth birthday approached to express his true feelings toward his only child.
A YouTube video where Janelle discussed this unique project featured the poem. Her words are on display at Graceland, where visitors can read Elvis's touching tribute to Lisa Marie.
"In the latter part of '71, I was visiting Graceland. Lisa pushed her baby buggy through the hall, and I said to Elvis, 'Can you imagine? She is soon going to be four years old. What are you going to give her for her birthday?'" Janelle explained.
She continued, "Elvis paused and said 'I don't know. She's all we have and is our most prized possession. I want Lisa to know what the important things in life are. Money is not important. It is fleeting, and all this is just vanity.'"
Elvis asked Janelle if she would write a poem to give to Lisa Marie to explain his thoughts on the fundamental values of life "because I may not always be around." She replied, "In other words, you want to give her 'the priceless gift.'" He answered, "That's right, and be sure to sign it 'Daddy.'"
Janelle McComb wrote the poem engraved on Elvis's tombstone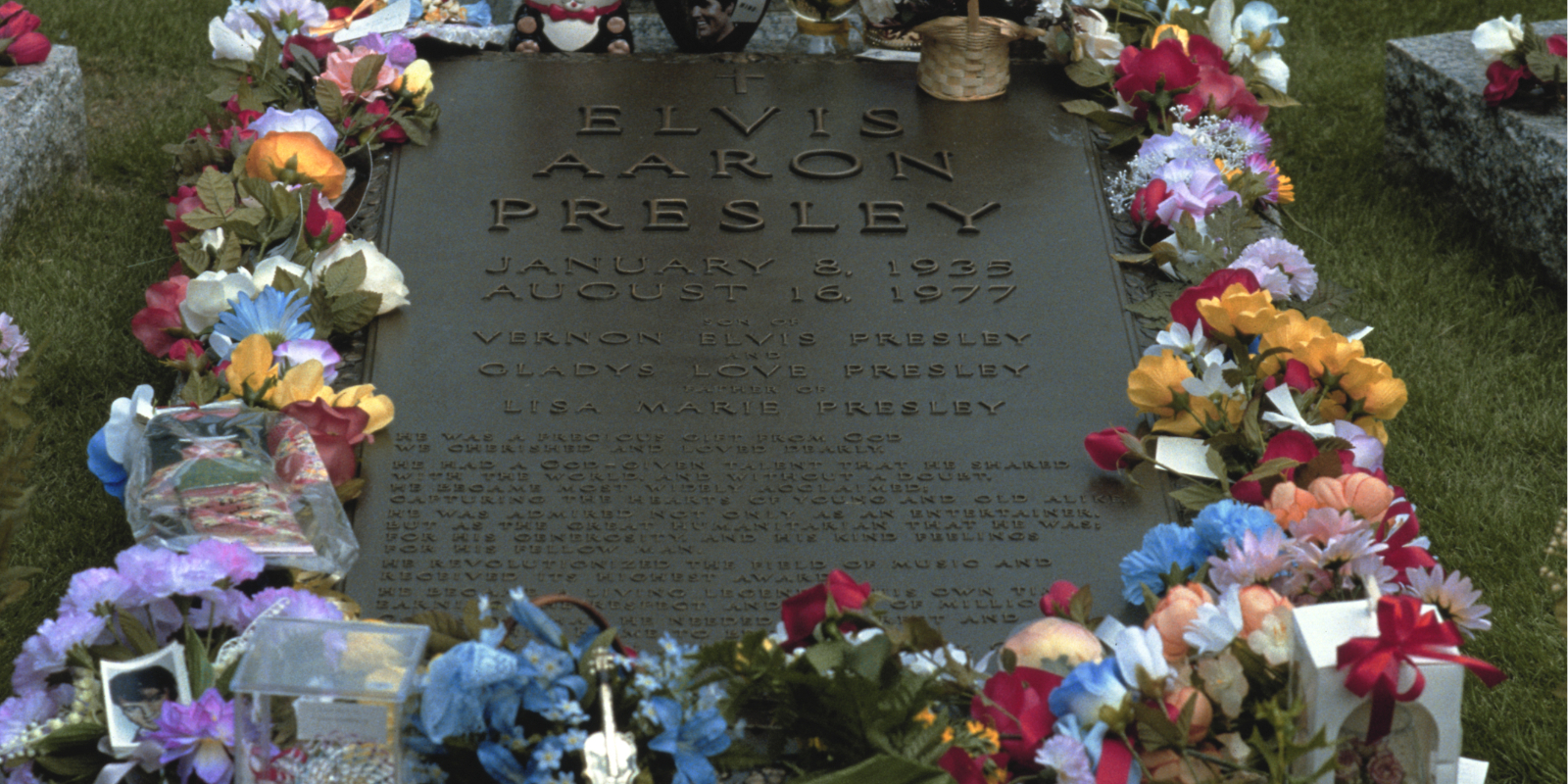 Janelle remained a friend to the Presley family until his death in Aug. 1977. She continued to write poetry for the family, and Vernon Presley commissioned Janelle to write the poem engraved on Elvis' Graceland marker and his final resting place.
Vernon Presley commissioned the poem to express his feelings of loss regarding the death of his son. Elvis's body is interred at Graceland's Meditation Garden.
It reads: "Son of Vernon Elvis Presley and Gladys Love Presley and father of Lisa Marie Presley. He was a precious gift from God we cherished and loved dearly.
"He had a God-given talent that he shared with the world. And without a doubt, he became most widely acclaimed, capturing the hearts of young and old alike.
"He was admired not only as an entertainer but as the great humanitarian that he was for his generosity and his kind feelings for his fellow man.
"[Elvis] revolutionized the field of music and received its highest awards. He became a living legend in his own time, earning the respect and love of millions.
"God saw that he needed some rest and called him home to be with Him. We miss you, Son and Daddy. I thank God that He gave us you as our son."